Process
All of the "In Little" portraits begin with a series of photographs taken by the artist in her Somerville, MA studio. Kelly advises each subject to help find clothing and accessories that captures their personal aesthetic in order to create a one of a kind portrait that blends modernity and timelessness. Every "In Little" is painted with oils on an archival wooden panel measuring 5" x 7" inches and features a hand painted oval mat.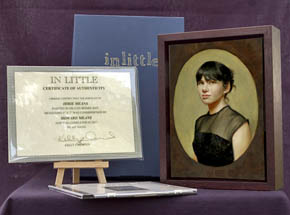 Commission
To commission a portrait, inquire about paintings for sale, or for any other questions you may have, please contact Kelly by e-mail at info@inlittle.com. She can also be reached at (978) 337-4707.
This Includes:
Your Oil Portrait with a Complementary Hand-Painted Oval Mat
Floating Frame
Signed Certificate of Authenticity
Digital Reproduction of your Portrait
Additional Services* are Available, Including:
In-Home Photo Shoot
In-Home Wardrobe Consultation to Plan your Portrait
Custom Framing
Larger Scale Portraits
Please visit the testimonials page to learn more about the process and the product.