Client Testimonials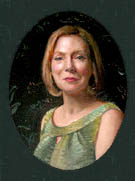 I loved the whole process with Kelly. She is a delight to spend time with—very responsive and receptive, and I felt comfortable with her each step of the way. As a painter myself, it was equally important to me that Kelly is a brilliant portrait artist, gracefully combining the representational with the innovative.
— Roberta Iervolino Kovner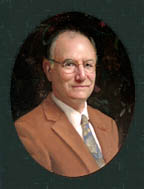 Why did we commission portraits? Well... it was a surprise birthday present from my wife. What an out-of-the box idea and enduring gift. I had just come from seeing portraits of couples at the MFA and was moved by how the portraits captured personalities long forgotten and relationships that had long ceased to be. So I thought of this process as a way to speak across the generations in a way we never could.
As we got nearer to the photo shoot, I became a bit nervous and vain, wondering if I should ask Kelly to knock 10 years and 15 pounds off my figure, but thought better of it. I figured that a good portrait, as opposed to a snapshot, should reveal who you are in depth and variety, and in ways that should surprise you a bit and cause you to wonder. It is akin to the pleasure (and embarrassment) of overhearing others speak of you in a perceptive and honest way. Her portrait was anatomically accurate (i.e. I recognized the guy she depicted), but also reflected much about who I am and have become.
What a rare gift from her and my wife. I don't gaze at snapshots like that. Any negative connotation that they are "only miniatures" falls away quickly. They are so rich and nuanced, that they are fully realized and sui generis. On top of it all, Kelly is conscientious and straightforward, so the process from commission to sitting to delivery was pleasant and simple. We are now thinking of commissioning another series so that each child can have a set.
— Peter C. Kovner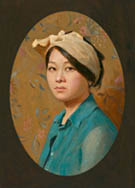 I absolutely love the painting! Amazing job!!
— Jungah Kim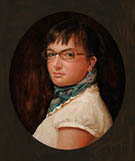 I grew up in a house full of enormous old family portraits in heavy gold frames. The paintings were a beautiful reminder of our families past, even though I never knew exactly who was who. It never occurred to me that I could have my own likeness painted until I saw Kelly's work. I love the idea that one day my portrait might be on the wall of some great niece or nephew's house. Even better, because the portrait is a miniature, it won't take over the entire house like the portraits in my parent's house did. More importantly, it's an awesome conversation piece and a total thrill to look at.
Apart from the fun of seeing this beautiful painting everyday there is the fun of meeting with Kelly and having her work with you to make the best portrait possible. I brought a couple possible blouses and a few colorful scarves that I thought would look timeless. We took photos with glasses on, glasses off, facing left, facing right, etc. It was a really fun experience. Kelly couldn't be nicer, or more intent on getting it right.
— Ihrie Means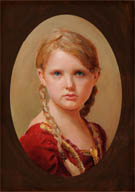 Kelly Carmody painted a beautiful portrait of my daughter Veronica. Although I am familiar with and impressed by her other work, I was still amazed by the likeness that she is able to capture in paint. The painting received many compliments from my friends and family and wishes of having their own family members painted. My 6 year old enjoyed sitting for the portrait and we found Kelly to be patient, upbeat and very personable. The portrait is a true treasure!
— Nychola Slater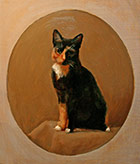 My sisters commissioned this portrait as a surprise wedding gift for my husband and me. They secretly borrowed our cat Gwennie while we were out one day, to photograph her, and presented us with this amazing portrait on our wedding day. We got many special presents that day, but I must say that this may be our favorite. Kelly did an amazing job of capturing our little cat's special personality, and the portrait has pride of place in our home.
— Amy Starecheski